GREAT RESULTS
Rated 4.6/5 Stars
Our natural blend of pure ingredients are professionally formulated to help reduce your dog's stress and tension. Our Natural Calm meal topper is gentle enough to use every day for a happier and healthier dog.
Regular price
Sale price
$49.95
Unit price
per
Sale
| Free Shipping
Sold out
Ships from ourSydney warehouse.Delivered to your door by

05 Dec
Amazing Savings When You Bundle

View full details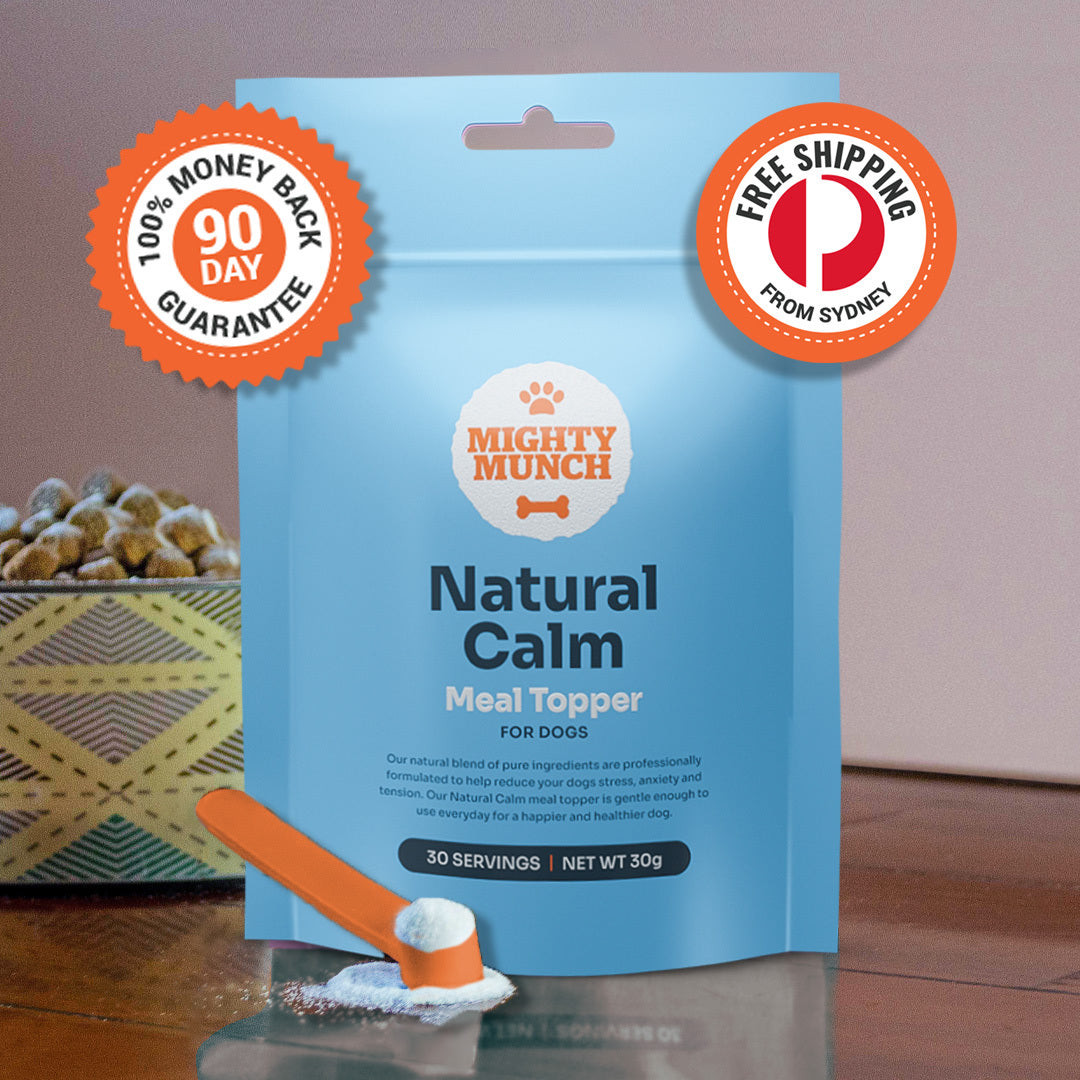 A delicious meal topper that calms & helps eliminate your dog's excessive barking.
Formulated by Vets & Made in Australia, Mighty Munch Natural Calm is a non-drowsy, non medicated formula that helps eliminate excessive barking and overall misbehaving. Its 100% safe for all breeds and ages.
Adding Mighty Munch Natural Calm to your dog's food bowl daily is a super easy solution to help your dog feel at ease.
Vet Recommended For All Breeds and Ages
Recommended and used by Vets, Mighty Munch is a trusted brand used daily by thousands of pet parents around the world.
Our Natural Calm meal topper is specially formulated to help ease your dog's mood, without the meds.
It is 100% safe for all breeds and ages and exceeds Australia's pet health standards.
Key Ingredients
Our super potent probiotics are highly effective. We've created an ingredients list we're proud of, using only the best sourced ingredients here in Australia.
INULIN
Inulin is a powerful fibre found in many plants. It helps regulate your dog's stomach, and a calm stomach means a calm dog. It also has been shown to improve sleep, which can help reduce anxiety.
B LONGUM
Your dog's gut communicates directly with the brain via nerves. Certain probiotic strains, like "B. longum" helps lower stress levels in dogs by reducing salivary cortisol, which is the stress hormone.
BEEF FLAVOUR
Taste-Tested Beef Goodness: We've infused this topper with a savoury beef flavour that passes the canine taste test with flying colours. Your dog will adore it, making their well-being a daily delight.
Why Are Thousands of People Choosing Mighty Munch
| Here's some of ourunique benefits | | OTHERS |
| --- | --- | --- |
| Proven effectiveness | | |
| 100% Guarantee | | |
| Potent ingredients | | |
| Safe for all dogs | | |
| Vet approved | | |
MIGHTY MUNCH PRODUCTS ARE RATED 4.8/5 STARS.
Frequently Asked Questions
Our world-class team prepared answers to your common questions.
90 DAY MONEY BACK GUARANTEE

24/7 CUSTOMER SUPPORT COPY

FREE SHIPPING ON ALL ORDER

RATED 4.8/5 STARS BY CUSTOMERS